Cloud Computing
Cloud Computing
Cloud Computing is a model that enables ubiquitous access to a shared pool of configurable technological assets available on-demand in a virtualised environment. Cloud services are remotely managed by cloud service providers and can be rapidly provisioned and released with minimal effort or service provider interaction. It can potentially achieve coherence and economies of scale.
The cloud model encompasses the four deployment models Public, Private, Hybrid and Community and the following three delivery models [1]:
Software as a Service
The provider delivers software based on one set of common code and data definitions, which is running on a cloud infrastructure. It is consumed in a one-to-many model by all contracted customers at anytime on a pay-for-use basis or as a subscription based on use metrics. The applications are accessible from various devises through a thin client interface. [2]
Platform as a Service
Platform services provide a virtual environment for software developers to build applications and services using tools (e.g. operating systems, database management systems or server software) supplied by the provider. It can be accessed by users via their web browsers. [1]
Infrastructure as a Service
Infrastructure services provide specifically virtualized computing infrastructure such as virtual server space, IP addresses, network connections or bandwidth. [1]
Security and confidentiality are well known as the most serious obstacles to cloud adoption in the public sector. For this reason, there is a demand for trusted cloud services that constitute public administration business processes. [3]
[1]    Goyal, S. (2013), Software as a Service, Platform as a Service, Infrastructure as a Service –A Review, International journal of Computer Science & Network Solutions, 1(3), 53-67.
[2]    Gartner IT Glossary (n.d.), Software as a Service (SaaS), https://www.gartner.com/it-glossary/software-as-a-service-saas/, retrieved Mach 7, 2018.
[3]    Strick, L., Piswanger C. (2017), European innovation procurement "Pre-Commercial-Procurement" and Cloud computing by reference to the research project "Cloud for Europe", 2017 Fourth International Conference on eDemocracy & eGovernment (ICEDEG), 161-166.
Trend tendency (relative frequency of related scientific publications)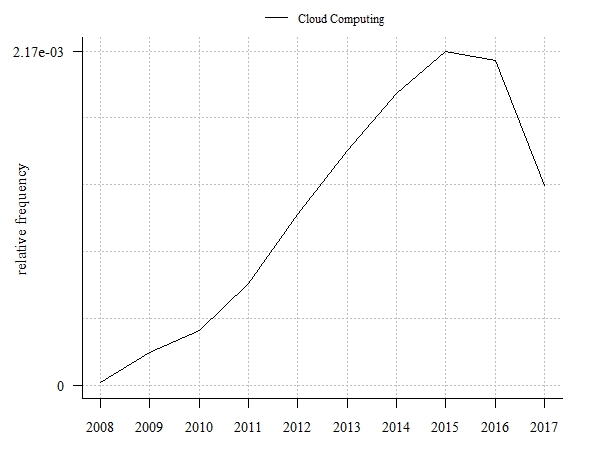 Public Sector Relevance (relative frequency of related scientific publications)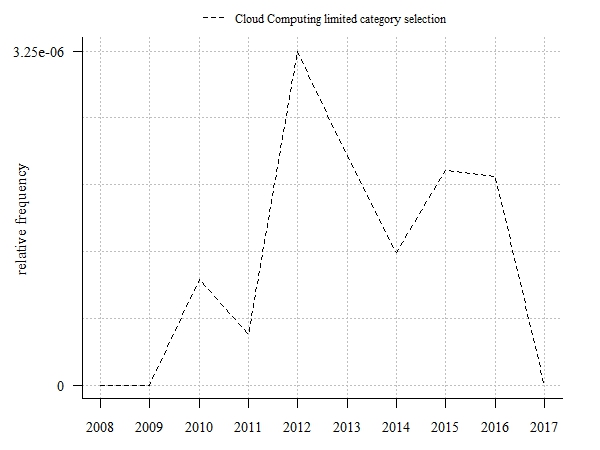 Type of trend:
Scope: